Akram Zaatari | Father and Son
Akram Zaatari
Father and Son
17 May 2022, 19:30
Postane Istanbul
>> Prior to the talk, we will be visiting the Istanbul Archeological Museum with Akram Zaatari to see the new displays of the Royal Necropolis of Sidon. Everyone is welcome to join us at 18:00 in the main hall of the museum, in front of the Alexander Sarcophagus. Entrance to the museum at your own cost.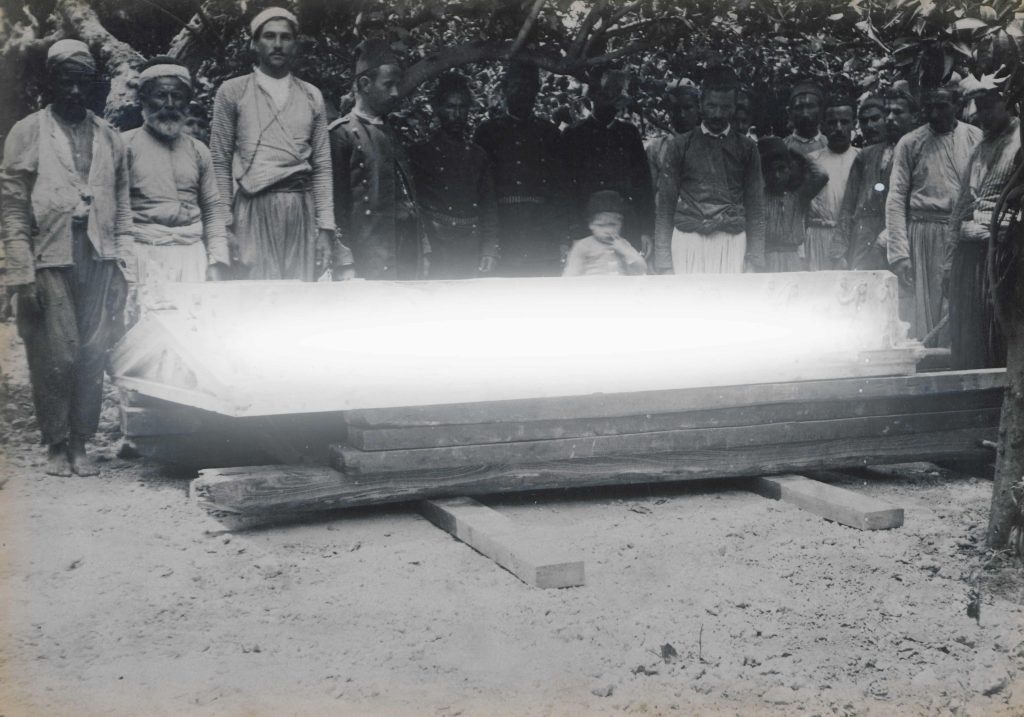 In the spring of 1887, Osman Hamdi Bey arrived in Saida, South Lebanon today, to start his excavation of what later turned out to be the Sidon Necropolis. In this location were found nineteen sarcophagi that were transported at the end of his excavation to Constantinople, to form the nucleus of the collection of the Imperial Museum —today's Istanbul Archeological Museum. This talk will not only address this excavation, its finds and the role of photography in promoting it, but also the space it occupies in the city's memory today. The "Father and Son" project takes place as part of the artist's doctoral project with ENSAPC and Cy University.
"Father and Son" is supported by the EUR Humanities, Creation, Heritage (PSGS HCH) «Investissement d'Avenir ANR-17-EURE-0021» and AFAC (Arab Fund for Arts and Culture).
The talk will be in English, there will be no simultaneous translation.
We thank Postane for hosting this talk.
About Akram Zaatari:
Akram Zaatari (born 1966 in Lebanon) has produced more than fifty films and videos, a dozen books, and countless installations of photographic material, all sharing an interest in writing histories, pursuing a range of interconnected themes, subjects and practices related to excavation, political resistance, the lives of former militants, the legacy of an exhausted left, the circulation of images in times of war, and the play of tenses inherent to various letters that have been lost, found, buried, discovered, or otherwise delayed in reaching their destinations. Zaatari has played a critical role in developing the formal, intellectual, and institutional infrastructure of Beirut's contemporary art scene. He was one of a handful of young artists who emerged from the delirious but short-lived era of experimentation in Lebanon's television industry, which was radically reorganized after the country's civil war. As a co-founder of the Arab Image Foundation, a groundbreaking, artist-driven organization devoted to the research and study of photography in the Arab world, he has made invaluable and uncompromising contributions to the wider discourse on preservation and archival practice.
Zaatari's work has been featured at Documenta13 in 2012. He represented Lebanon at the Venice Biennial in 2013. His films include three features: The Landing (2019), Twenty-Eight Nights and A Poem (2015) and This Day (2003). His work is part of institutional collections such as the Centre Pompidou, Guggenheim Museum NY and Abu Dhabi, Hammer Museum, Moderna Museet, K21, MACBA, MMCA Seoul, MoMA, Sharjah Art Foundation, Serralves Foundation, Tate Modern, and Walker Art Center.