After "Time of the Gypsies": On the Archives of Roma People
Gonca Girgin and Elmas Arus
25 August 2021, 19:00, Postane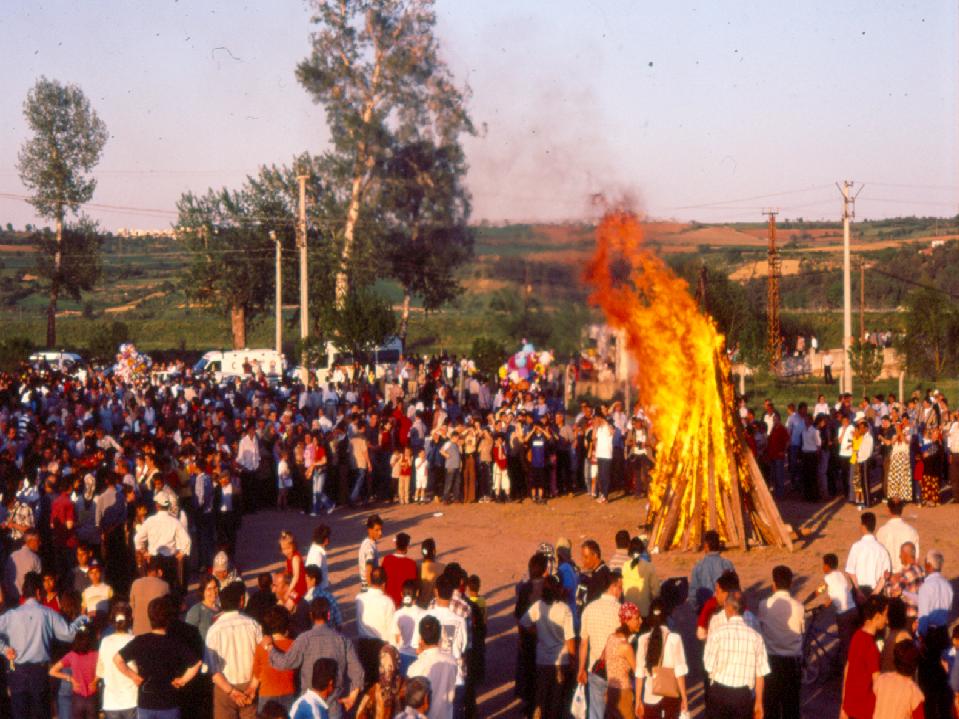 Gonca Girgin and Elmas Arus talk about the international construction of Gypsy identity and the position of Roma people among Anatolian cultures.
Gonca Girgin
Modern Perceptions of Gypsies: Silence, Being Together and Being In-Between
Differentiated from other nomadic communities in the late 18th century, ethnicized during the 19th century to be portrayed as a minority nation, Gypsies were stuck between the nation and the state in the nation-state era of the 20th century. The positive or negative reproductions of historical information on Gypsies have often differed from one construction of political power to another. As follows, Gypsies who had been traditionally portrayed as politically weak but historically and culturally significant, started appearing as one of the most critical representation areas of togetherness after the second half of the 20th century. Especially after 1980, they became an indispensable actor of creative industries whose borders, modes of communication and subject matters are immensely slippery.
Elmas Arus
Roma People: Ignored Culture Producers of Anatolia
Despite living in Anatolia for centuries, the history, culture and labor of the Roma people, who have been historically excluded and ignored, are now seen as worthless even to themselves. In order to counter these constructed negative perceptions towards Roma people, it is necessary to provide them with tools which will enable them to write their own history and make them visible in the public space with the culture they produce. In this sense, a documentary is a powerful tool. Using this tool to keep the memory of the Roma people, Elmas Arus created The Half (2010), a film which spreads over seven regions of Turkey, creating a 360-hour archive covering thirty-eight provinces. In her film, Arus elaborates on the lives, cultural differences, traditions, contradictions, social, cultural and economic dilemmas of the Rom, Dom, Lom, and Abdal communities living in Turkey.
Biographies:
Gonca Girgin was born in 1978 in Istanbul. She graduated from ITU Turkish Music Conservatory, Department of Basic Sciences. She holds a master's degree in ethno-musicology and a PhD in musicology. In 2006, she published Writing Music which deals with historical musicology. During her post-graduate studies, she published various articles on diverse topics such as identity, cultural policies and ethnicity. Her book titled 9/8 Roma Dance: Culture, Identity, Transformation and Reconstruction was published in 2015. She conducted workshops on Roma dance and participated in many concerts as a qanun performer. Currently a lecturer at ITU Turkish Music State Conservatory's Department of Musicology, Girgin continues to work as an activist and research on performance theory, cultural identities, political utilization of social classes and political representation through music and dance.
Elmas Arus completed her associate degree in Trakya University's Radio-Television Department, followed by a BA at Istanbul University's Department of Journalism. She is the director of the documentary The Half (2010), which deals with the lives of the Rom, Dom, Lom and Abdal groups in 400 Roma neighborhoods in thirty-eight cities of Turkey. The film has received many awards in the national and international arena, including at the "Lights" section of the International Hrant Dink Awards. Besides The Half, she directed many other documentaries. Since 2009, she has been the chairman of the Zero Discrimination Association, which she founded. She is the director of Another School of Politics, an association for Roma youth, as well as the Turkey Coordinator of the ROMACTED program of the Council of Europe. Among several awards Arus received are the "Locally Organized Roma Activist Women Award" given by The European Commission for her contributions in the integration, inclusion and strengthening of Roma people in society, the Raoul Wallenberg Humanitarian Aid Award and the "Leader Women of the Association of Democracy Auditors" award. Arus, who is married and has three children, continues her work as a documentary filmmaker and advocate of human rights.